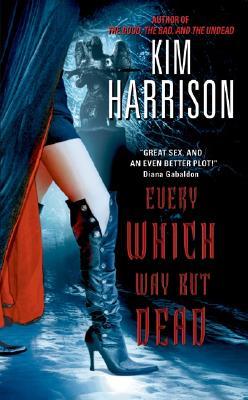 Book 3 in The Hollows Series
From Goodreads:
T
here's no witch in Cincinnati tougher, sexier, or more screwed up than bounty hunter Rachel Morgan, who's already put her love life and soul in dire jeopardy through her determined efforts to bring criminal night creatures to justice.
Between "runs," she has her hands full fending off the attentions of her blood-drinking partner, keeping a deadly secret from her backup, and resisting a hot new vamp suitor.
Rachel must also take a stand in the war that's raging in the city's underworld, since she helped put away its former vampire kingpin - and made a deal with a powerful demon to do so that could cost her an eternity of pain, torment, and degradation.
And now her dark "master" is coming to collect his due.
My Thoughts:
A while back I was looking for a good series, that was not too thinky, enjoyable, fun, and easy to read. a friend recommend Kim Harrison's series and it has paid off. You can probably pick up any one up to read, but I would recommend starting at the beginning. The world that Harrison has created is interesting and makes for a better overall experience. The short version: werewolves, witches, demons, vampires, etc. have always existed under the surface. Hidden and keeping quiet and to themselves. Then genetically modified tomatoes (hmm how timely) created a disease among normal humans wiping out about half of the population, leaving the door open for things that go bump in the night. Both societies learned to co-exist in this new world.
The main character is Jinx a witch who tends to get herself into trouble. She is best friends with a vampire and a pixie and they have a detective agency together, for lack of a better term. They live in an old church and the stories flow from there. The characters and problems in each book are interesting and tend to build on one another. But with this boo I have noticed it's easy for anyone to dive in. This world and characters are easy to imagine, and the pages fly by. These books are fun and not too fantasy like.
So if you're looking for something light, interesting, and enjoyable, pick up one of these.
and thanks to my friend for his great recommendation!
**sidebar on my reviews: no more ratings, and I only review some of the books I read. I' also not accepting books for review anymore. This is fun not work :)
© Jenny Girl - 2015 "All Rights Reserved"